Nordstrom's 12 Days of Cyber Savings Sale Just Started—Here's What You Need
3 min read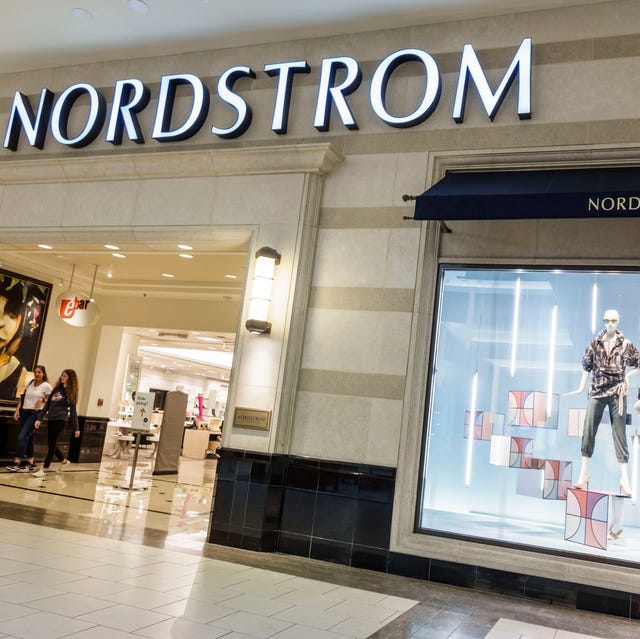 Jeff GreenbergGetty Images
The entire fever dream that was 2020 has all been leading up to this—the official start of Black Friday and Cyber Monday deals. One long-awaited entry in this season's offerings is Nordstrom's 12 Days of Cyber Savings sale, which begins today with up to 50% off designer handbags, must-have knit sweaters, and all of the cozy loungewear. Keep a bookmark on the deductions now, as the retailer will be slashing prices through the end of the month.
If there's an accessory you've been eyeing for the hardest person on your shopping list or perhaps a treat-yourself beauty product, this is the sale to make it happen. Stay home and let the savings roll in or receive complimentary gift wrapping and/or gift messages if you opt to shop in-store or curbside. Ahead, the first drop in Nordstrom's dozen days of discounts—because we've all earned this.
1
Classic Mini Fluff Shearling Bootie
$160 $99.90 (37% off)
If you're not toting around the house in these while binge-watching The Queen's Gambit, are you really quarantining? 
2
Chain Hobo Bag
Rebecca Minkhoff
nordstrom.com
$149.00
$298 $149 (50% off)
Toting all of my hopes and dreams into 2021. 
3
Point Break Drawstring Pants
Free People
nordstrom.com
$49.97
$128 $49.97 (60% off)
A pair of lounge pants that you won't be ashamed to wear for a grocery run. 
4
Floral AirPods Case
x Rifle Paper Co.
nordstrom.com
$15.00
$25 $15 (40% off)
Work hard so that your AirPods can have a better life.
5
Mia Short Pajamas
Papinelle
nordstrom.com
$53.40
$89 $53.40 (40% off)
"Can one ever have too many pairs of silk pajamas sets?" she asked while adding to cart. 
6
Mini Square Stud Earrings
Kate Spade
nordstrom.com
$32.00
$32 $16 (50% off)
Most outfits could use something that sparkles. 
7
Lou Stripe V-Neck Sweater
ALLSAINTS
nordstrom.com
$129.50
$185 $129.50 (30% off)
Swath yourself in this oversized sweater and allow the cozy vibes to take over. 
8
Gilmore Slide Sandal
Michael Kors
nordstrom.com
$39.90
$69 $39.90 (42% off)
Sliding into my closet immediately. 
9
Tie Neck Ruffle Pullover Sweater
Madewell
nordstrom.com
$42.90
$78 $42.90 (45% off)
This topper reads as pilgrim chic in the best way. 
10
Valentina Pink Eau de Parfum
Valentino
nordstrom.com
$55.20
$92 $55.20 (40% off)
Smelling good while working from home is undeniably self-care. 
11
The Lightweight Wide Leg Crop Stretch Cotton Pants
Everlane
nordstrom.com
$35.90
$72 $35.90 (50% off)
These Everlane favorites are half-off—need we say more?
12
No. 25 Winter Fir Scented Candle
Outdoor Fellow
nordstrom.com
$27.00
$36 $27 (25% off)
Even though no one is an "outdoor fellow" these days, our candles can be. 
13
Mini Shirley Leather Satchel
STAUD
nordstrom.com
$150.00
$250 $150 (40% off)
It's a slam-dunk for anyone on your Christmas list. 
14
Studded Canvas Loafer
GANNI
nordstrom.com
$267.00
$445 $267 (40% off)
These embellished loafers feel both classy and slightly chaotic, all in one chic design.  
15
High Waist Chewed Hem Ankle Skinny Jeans
Good Amrican
nordstrom.com
$95.40
$159 $95.40 (40% off)
Investing in good denim will always get you on the nice list. 
16
Baseline Widebody International Rolling Carry-On
Briggs & Riley
nordstrom.com
$599.00
$569 $227.60 (60% off)
Traveling may not be in the cards, but scoring this deal may will it into your future, come 2021. 
17
Saturday Morning Thermal Pajamas
$75 $49 (34% off)
If you're still doing the lounging thing (yes) and the tie-dye thing (who are we kidding), then these PJs are a no-brainer. 
18
The Bucket Bag Leather Crossbody Bag
Marc Jacobs
nordstrom.com
$297.00
$495 $297 (40% off)
Be the cool gift giver—snatch this bag up. 
19
Adi Sequin Crop Top
Veronica Beard
nordstrom.com
$140.00
$350 $140 (60% off)
If your New Year's Eve is destined for a Zoom screen, allow this sparkly topper to do all the work. 
20
Panon Evil Eye Drop Earrings
BAUBLEBAR
nordstrom.com
$22.80
$38 $22.80 (40% off)
Ward off evil spirits this holiday season with a pair of statement earrings. 
21
Leopard Sweater Skirt
J.CREW
nordstrom.com
$58.49
$128 $58.49 (54% off)
Take a walk on the wild side, while embracing the comfort of a sweater. 
22
Plush Ribbed Polo Shirt
Madewell
nordstrom.com
$38.50
$55 $38.50 (30% off)
This will be one of those products you end up living in for all of the isolated winter. 
This content is created and maintained by a third party, and imported onto this page to help users provide their email addresses. You may be able to find more information about this and similar content at piano.io