Most Comfortable Sneakers — Best Comfortable Sneakers 2020
3 min read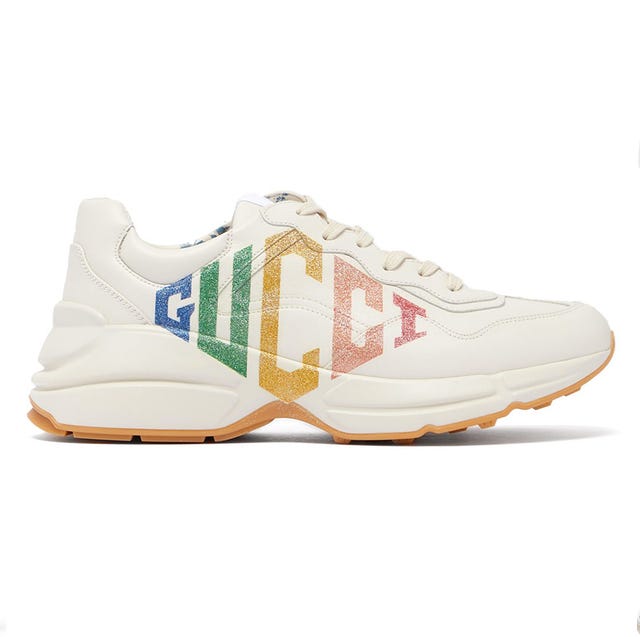 Courtesy of brands
Sneakers have always been touted as the comfortable alternative to painful stilettos and sandals, but not every sneaker feels like a walk in the park—or can last for one, for that matter. Then come a multitude of factors to consider: Are they breathable? Lightweight? Affordable? Cute?
Whether your go-to is an chunky designer shoe, a sustainably-made slip-on or a streetwear classic, your feet deserves the very best so we compiled a list of just that—the most comfortable sneakers ever. Ahead, shop our favorites.
1 of 19
Nike
Air Max 270 React
Nike
net-a-porter.com
$105.00
A standout in the Nike family, the Air Max 270 is outfitted with a lightweight neoprene upper and an air-bubble on the heel for an added pep in your step. Plus, it comes in an array of colorways to fit every mood.
2 of 19
Rothys
Sand Slip On
Rothy's
rothys.com
$125.00
Who knew a plastic water bottle would feel so good? Crafted from repurposed water bottles, Rothys' comfortable slip-on is the cure to workday blues.
3 of 19
Allbirds
Tree Runner
Allbirds
allbirds.com
$95.00
If "tread lightly" was a shoe, it would be this. Made with eucalyptus tree fiber treads, Allbirds' cult-favorite sneaker is basically a pillow for your feet.
4 of 19
Madewell
Sidewalk Low-Top Sneakers
Madewell
madewell.com
$78.00
Madewell's Sidewalk sneaker is the perfect hybrid of style and comfort that can be worn with jeans or a dress. 
5 of 19
Everlane
Court Sneaker
Everlane's Court sneaker is its lowest impact style to date, created with less waste, less energy, and less virgin plastic.
6 of 19
Adidas
Superstar Sneaker
Adidas
nordstrom.com
$60.00
Hip-hop made Superstars popular in the '80s, but its minimalist silhouette and soft interior has kept it relevant for decades.
7 of 19
Nike
Air Force 1
Nike
net-a-porter.com
$90.00
You'd be hard-pressed to find someone who doesn't own a pair of Air Force 1s. Whether you like them scruffy or crease-less, Air Force 1s will never go out of style. 
8 of 19
Adidas
NMD R1
Adidas
nordstrom.com
$130.00
These knitted, cushiony sneakers feel like you're walking on a bed of clouds.
9 of 19
Cariuma
OCA Low Canvas
Cariuma
cariuma.com
$109.00
Ethically made, consciously packaged, and comfortable as hell? Cariuma checks off all the boxes. 
10 of 19
Prada
Logo Knitted Sneakers
Prada
farfetch.com
$720.00
Choosing a designer sneaker is hard, so fall back on this versatile option from Prada that pairs well with everything.
11 of 19
New Balance
Made in US 990 V5 Sneaker
New Balance
amazon.com
$159.99
Very rarely would you see a pair of New Balance's iconic sneakers outside the gym, but Instagram's it-girls made it the shoe du-jour. 
12 of 19
Reebok
Classic Harman Run Sneaker
A sneaker that is as cool today as it was in the 90s. 
13 of 19
Naturalizer
Selah Slip On Sneaker
Naturalizer
naturalizer.com
$89.00
You can never go wrong with a lightweight slip-on that features an exaggerated platform sole and fabric that contours your arches.
14 of 19
Veja
3-Lock Sneakers
Veja is Meghan Markle-approved brand that proves sustainability is in.
15 of 19
Puma
Future Rider Play On Sneakers
The Future Rider is the sister to Puma's '90s classic, the Fast Rider. The new model was designed with ultra-soft cushioning and currently comes in bold colorblocking. 
16 of 19
Gucci
Rhyton Leather Trainers
Gucci
matchesfashion.com
$829.00
This Gucci sneakers melds the comfortability of a classic running sneaker with its signature chic designer flair to create a shoe that's worth every penny.
17 of 19
Common Projects
Original Achilles Leather Sneakers
Common Projects
net-a-porter.com
$415.00
Common Projects' Achilles sneaker is so comfortable you'll forget that it's a full-leather shoe. Plus, you can remove the insole and replace it for added comfort.
18 of 19
Converse
High Top Sneaker
Converse
nordstrom.com
$85.00
Chucks are a closet staple that get more comfortable and better-looking with each wear. 
19 of 19
Alexander McQueen
Raised-Sole Low-Top Leather Trainers
Alexander McQueen
matchesfashion.com
$490.00
Taking the platform sneaker to higher ground, this cushioned sole will keep your dogs quiet all day long. 
Advertisement – Continue Reading Below
This content is created and maintained by a third party, and imported onto this page to help users provide their email addresses. You may be able to find more information about this and similar content at piano.io
This commenting section is created and maintained by a third party, and imported onto this page. You may be able to find more information on their web site.