Best Vintage Hair Styles, Vintage Hair Inspiration, Vintage Beauty Photos
5 min read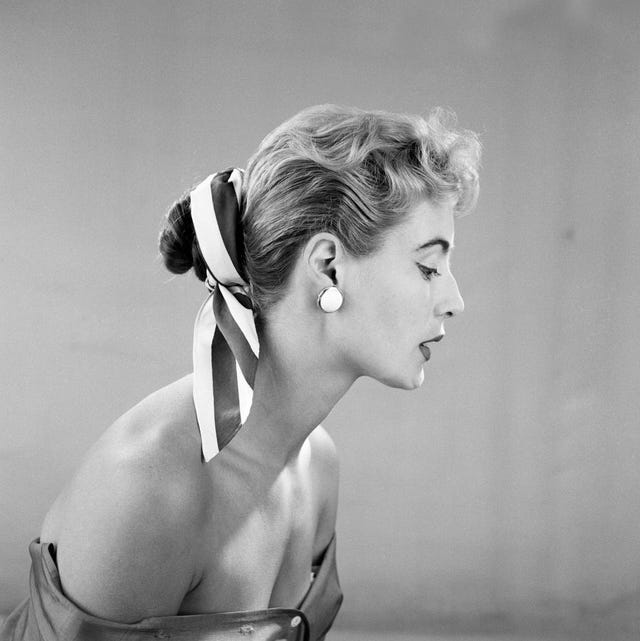 MirrorpixGetty Images
Haircuts from yesteryear reign supreme for their innovation, technique, and skill to make these larger than life styles stand the test of time. From blunt bobs to abundant afros, we've rounded up some of the best curls, cuts, and swirls from the 20th century in order to discover the best hairstyles from the past.
1 of 40
1924: Curly Bobs
In the 1920s, the bob was king. By the middle of the decade, it was a curly, messy bob specifically that everyone wanted, as seen here on Dorothy Nourse.
2 of 40
1925: The Speakeasy
Myrna Loy was one of America's leading ladies in the 1920s. Here she is wearing an impressive lacquer wig, named The Speakeasy, which was designed by Dermot of London.
4 of 40
1930: Long Bobs
Silent film star Colleen Moore grew out the cheekbone-grazing bob style in the 1930s, adding a bit more length to her look.
5 of 40
1933: Finger Waves
Hairstyles that incorporated delicate curls dubbed "finger waves" were invented by the 1930s by celebrity hairdresser Monsieur Antoine, who has stars like Josephine Baker and Bette Davis as clients.
6 of 40
1940: French Braids
Known for her straight down the middle part, Austrian actress Hedy Lamarr often styled her hair in French braids with volume on the sides and curled tendrils on the front.
7 of 40
1943: Victory Curls
A model demonstrates an elaborate updo that incorporated popular at the time victory curls, a.k.a. large curls that framed the face or sat on the top of the head.
8 of 40
1950: Tight Barrel Curls
Linda Darnell was one of 20th Century Fox's leading ladies in the '40s and '50s and, here, the star wears a leading style at the time: tight barrel curls.
9 of 40
1950: Braided Buns
While styles like the pompadour and poodle cut took over salons in the 1950s, British film star Deborah Kerr showed off a unique hairstyle of her own, featuring a coiled braid at the crown of her head.
10 of 40
1951: Gold Hairpieces
After the first Broadway performance of Roger and Hammerstein's The King and I, audiences were captivated by every detail of the production. Here, a woman models a sleek updo with gold hairpieces, which was a look worn in the play.
11 of 40
1952: The Troubadour Trim
Socialite Emily Brooks models the troubadour trim, where her hair is combed through her hat. The hairstyle was initially designed by London hairdresser Sidney Riche and soon became popular amongst society's elite in Europe.
12 of 40
1953: The Gamine Cut
When Audrey Hepburn decided to cut her hair in 1952—at the persuasion of stylists Peter Lamas and Hubert Givenchy—it was the super chic gamine cut that the actress settled on. Soon, the pixie style with dainty bangs became her signature style.
13 of 40
1955: Silk Accessories
With permanent waves, or perms, becoming a fixture in salons during the 1950s, women found interesting ways to dress up the look. Here, a women models a silk scarf wrapped around the base of her bun.
14 of 40
1956: Fascinators
The width and volume of this shoulder-length hairstyle makes it unique on its own, but pairing it with an ornate fascinator makes it even more unusual.
15 of 40
1960: The Bouffant
When Brigitte Bardot's fame rose in the '50s and '60s, the French actress became known for her signature style: her bouffant. The effortless and messy updo soon became one of the most sought after hairstyles.
16 of 40
1960: The Easter Egg
French model Lucie Daouphars took the bouffant to new heights, literally, when she modeled the "Easter egg" hairdo in 1960. The elaborate hairdo became known for more than just its vertical style, as it was often topped with accessories like roses.
17 of 40
1963: Diamond Accessories
South African opera singer Denny Dayviss was styled by the famous London hairdresser Vidal Sassoon. In 1963, Sassoon piles her hair into a high updo with Gerrard diamond hair accessories for a charity performance.
18 of 40
1965: The Comb-Over Bouffant
Dolly Parton always had big hair—even before she was a blonde. In 1965, the future country star posed in a photograph where she sported this elaborate comb-over bouffant.
19 of 40
1966: The Pixie
British fashion model Twiggy became known for her pixie cut in the late '60s. Here, the model adds a daring curl to frame her eyes for the ultimate mod look.
20 of 40
1966: Sleek Bobs
The sleek bob came back into style during the 1960s and once again the geometric, chin-hugging shape grazed the faces of women around the country.
21 of 40
1966: Side Ponytails
A '60s ponytail wasn't complete without lots of volume and, of course, a ribbon to top it off. But by the end of the decade, it was the side pony that really stood out amongst the rest.
22 of 40
1968: Sideburns
Sideburns became a popular hairstyle in the late '60s and throughout the '70s, but usually this style wasn't worn by women. However, this model makes the case for a unisex look with barrel curls.
23 of 40
1970: Layers
In the '70s, the age of free expression, hair became a lot less structured and styled. Feathery, textured layers started taking over.
24 of 40
1971: Beach Curls
Women started to grow out their short modern hairdos and by the '70s, long curls were all the rage. Complimenting the flower child era, loose beach curls became a favorite style amongst younger women.
25 of 40
1972: Pigtails
While performing in London, Fontella Bass sports a fashion-forward hairstyle on stage, featuring a center part and pigtails.
26 of 40
1972: The Female Mullet
Shortly after her wedding to Rolling Stones singer, Mick Jagger, Bianca Jagger modeled what almost resembles a chic mullet-like hairstyle.
27 of 40
1974: Volume
The Three Degrees singers, Valerie Holiday, Helen Scott, and Freddie Pool, pose for a promotional photoshoot, while styling very different, but equally voluminous, looks.
29 of 40
1975: Curly Bobs
A model channels flappers from the '20s by fastening her curls into a tight bob with a beaded headband. Proof that trends always come back into style.
30 of 40
1977: Curly Bangs
Donna Summer tucks her long hair under a bowler hat, while her curly bangs peek out of the front.
Advertisement – Continue Reading Below
This content is created and maintained by a third party, and imported onto this page to help users provide their email addresses. You may be able to find more information about this and similar content at piano.io
This commenting section is created and maintained by a third party, and imported onto this page. You may be able to find more information on their web site.