9 Fall 2020 Movies You Need to Watch
7 min read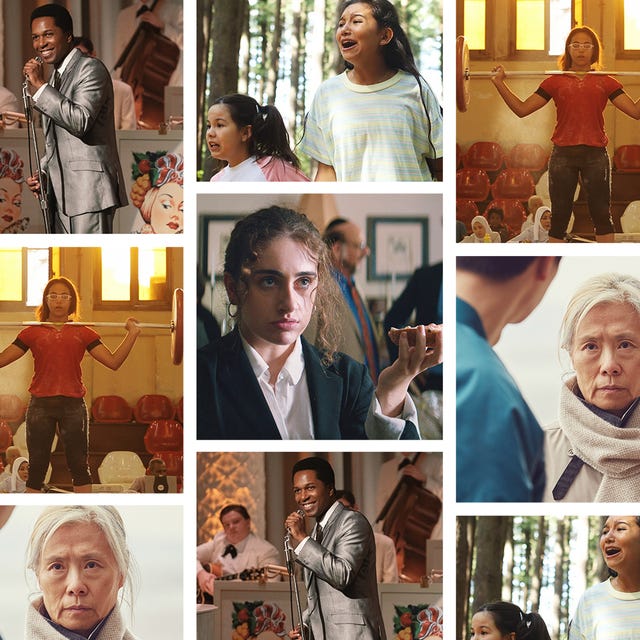 Courtesy
The 45th edition of the Toronto International Film Festival might've been a smaller affair than previous years, serving up a capsule program of 50 films available to watch virtually, physically, and even by drive-in. Still, it managed to boast a brilliant number of female filmmakers in its program. Forty-six percent of the films were directed or co-directed by women, a 10 percent improvement on last year. "We've reached a watershed moment where the entire film world is embracing the fact that women's voices have been underrepresented for too long," Cameron Bailey, TIFF's co-head and artistic director said in a statement. "Now is the time where we can bring more of these films to the fore."
And what a phenomenal selection TIFF had to offer. From B-movie horrors to powerful documentaries and sumptuous period pieces, plenty will be up for consideration this coming awards season.
Here are ten to watch for.
Advertisement – Continue Reading Below
1
One Night in Miami
After cutting her teeth in the director's chair for episodes of Insecure, Scandal and This is Us, Regina King is making her feature directorial debut. She brings to life Kemp Powers' 2013 stage play about an evening shared between Cassius Clay (before he became Mohammed Ali), Malcolm X, singer Sam Cooke, and NFL star Jim Brown. With Powers on screenwriting duty, the pair deliver a vibrant, poignant and deeply entertaining dramedy that imagines the events that led to a famous photo of the four men taken on the February 1964 evening the boxer became heavyweight champion.
The film captures the tensions between friends as they articulate the struggle of Black people in America, from their differing experiences and perspectives to tactics to secure equality. It's a dialogue-heavy film, but with sharp and emotionally intelligent acting from Kingsley Ben-Adir (Malcolm X), Eli Goree (Clay), Aldis Hodge (Brown), and Leslie Odom Jr. (Cooke), the story never loses steam. Gorgeously shot with stunning production design (Page Buckner and Barry Robison) and costuming (Francine Jamison-Tanchuck) to boot, One Night in Miami is an impressive debut from King.
2
Nomadland
There's so much warmth emanating from Chloe Zhao's third feature, you might just find the comfort 2020's been short on. Frances McDormand plays Fern, an endearing yet taciturn widow on a journey across the American West in a van she's converted into a home. On her travels, Fern meets an assortment of friendly faces in the nomad community who guide, advise and offer camaraderie. Again, Zhao makes use of non-actors to bring a naturalistic approach to the film, and their heartfelt authenticity is keenly felt.
Soft lighting adds an ethereal journey to Fern's wandering, with sweeping vistas of America's countryside and deserts providing a gorgeous backdrop. McDormand's performance is understated but quivers with meaning as it underscores the struggle for Americans to survive in an economy not built for everyone. It's a breathtaking, truth-speaking piece of cinema that should be an awards season contender for Zhao and her leading lady.
3
An Old Lady
This Korean drama takes a sensitive look at the difficulties in getting justice for rape survivors through the experience of an elderly woman nearing her 69th birthday. Following surgery, Hyo-jeong (Ye Su-jeong) is raped by a male nursing assistant (Kim Jung-yeong), but when she reports the crime to police, she finds that not only is he claiming it was consensual, but how hard it is for women her age to prove they were assaulted.
Hyo-jeong is supported in this endeavor by her companion Dong-in, (Ki Joo-bong) a bookstore owner whom she also lives with. But as her quest for justice continues, it creates a rift, and the pair are forced to reconcile with their past in order to find some peace in their present. Director Lim Sun-ae handles Hyo-jeong's story with great care, taking a minimal approach to the dialogue and using graceful cinematography underscored by a poetic arrangement from Kang Min-kook.
4
Shadow in the Cloud
Definitely the most bonkers movie in this year's TIFF line-up, Shadow in the Cloud takes its cues from the B-movie "creature features" of old infused with the spirit of Rosie the Riveter. Chloë Grace Moretz plays Maude, an injured flight officer claiming to be assigned to a B-17 Flying Fortress just leaving a New Zealand Allied air base during WWII. Suspicious of the airwoman who is carrying a strictly confidential package, the misogynist all-male crew force her to wait in a ball turret gunner hanging from the bottom of the plane. As the ship leaves, the crew members find themselves under attack from more than enemy fire.
The film is seriously ridiculous, full of genre cliches, "strong female character" tropes, and mind-boggling plot points that will have you screaming with laughter. But even at its most eye-rolling, there is a lot of fun to be had in filmmaker Roseanne Liang's latest.
5
Lift Like a Girl
Bringing true meaning to the phrase "fly-on-the-wall," Mayye Zayed's documentary spotlights the world of female weightlifting in Alexandria, Egypt, and the trials and tribulations faced by one team in their bid for success. Captain Ramadam is their leader, a former champion weightlifter who has trained up some of Egypt's finest athletes to compete and succeed at Olympic level. His latest protégée is 14-year-old Zebibi, and over four years we see her grow-up and face mounting pressure from her aging coach as he struggles to get funding to improve his dilapidated gym.
It's an empowering film to show the obstacles women face to compete at the highest levels, especially in countries where they're still dealing with gender and economic inequality. By assimilating the camera's eye into the team and allowing the subjects to push the narrative forward as they train and contend with the complex bonds that bind them together, Zayyed serves up a human interest story of sincere heart and honesty.
6
Shiva Baby
Emma Seligman's intensely funny comedy—emphasis on the "tense"—centers on a young Jewish graduate trying to hold it together at a family friend's shiva. Danielle (Rachel Sennott) has several secrets under her belt and they all threaten to come out as she's confronted with overbearing parents, an estranged best friend, and the arrival of a man with whom she's been having sex for money.
Unable to escape and having to face the continuous questioning about her life, career, and body by nearly everyone she meets, Danielle's anxiety is barely contained, and its journey toward eruption is intensified by some sharp editing, smart two-shots, and a plucky score to shred your nerves. An impressive, claustrophobic comedy from a filmmaker to watch.
7
Beans
Tracey Deer mines her own childhood experience to tell this coming-of-age drama set against the backdrop of the 1990 Oka Crisis in Montreal, Quebec. Beans (Kiawentiio) is a bright but timid 12-year-old excited to go to a new school outside her Mohawk community, but with the conflict caused by a private golf course being extended into their sacred territory, a protest gets increasingly violent.
After making new friends, Beans starts to come out of her shell, but as she continues to witness the devastating effect the protest and racism is having on her people, her innocence makes way for a rage she's not quite experienced enough to handle without threatening the morals with which she's been raised.
By using real footage from the protests juxtaposed with Beans' complex journey, Deer paints a visceral image of a community under attack but held together by love, one which very much resonates with the wide-spread exhibitions of solidarity in the face of today's increasingly polarized political climate.
8
Enemies of the States
Several years in the making, the latest documentary from investigative journalist Sonia Kennebeck chronicles the strange story of Matt DeHart, a former Air National Guard member who fled to Canada, with his supportive parents believing the FBI was falsely accusing him of having child pornography as part of a conspiracy to gain access to his computer. DeHart had links to Wikileaks and Anonymous through his hacktivism, and he and his parents are adamant throughout the doc that he was tortured in custody as part of the government's alleged pursuit of a mysterious leaked document. But the longer Kennebeck and producer Ines Hofman spend with the family, law enforcement officials, and various experts familiar with the case, the more things take a turn for the WTF.
A constantly shifting tale of espionage, conspiracy, and family ties, Enemies of the States will have you pulling an Oprah, asking "what is the truth?" with every new plot twist—and there are a lot to wrap your head around.
9
Spring Blossom
Romanticizing an age-inappropriate relationship in 2020 is certainly an awkward choice, but actor, writer, and first-time director Suzanne Lindon has done well to avoid any overt sexualization in this coming-of-age drama. Lindon plays a bored 16-year-old, also called Suzanne, who develops a crush on a 35-year-old actor performing at the local theater. Her stalking leads to meeting, and the pair embark on a seemingly platonic but clearly passionate romance to quell their general feelings of malaise. Using dance to symbolize their growing love for one another, the film avoids any discomfort that could stem from an explicit show of romantic emotion. A deeper introspection of the issue at hand could have been offered—it's all rather serene and easy for Suzanne—but Spring Blossom is still an impressive debut from a 20-year-old filmmaker ready to tackle uncomfortable subjects in a nuanced way
This content is created and maintained by a third party, and imported onto this page to help users provide their email addresses. You may be able to find more information about this and similar content at piano.io
Advertisement – Continue Reading Below