25 Classic Straw Hats for Summer 2020
4 min read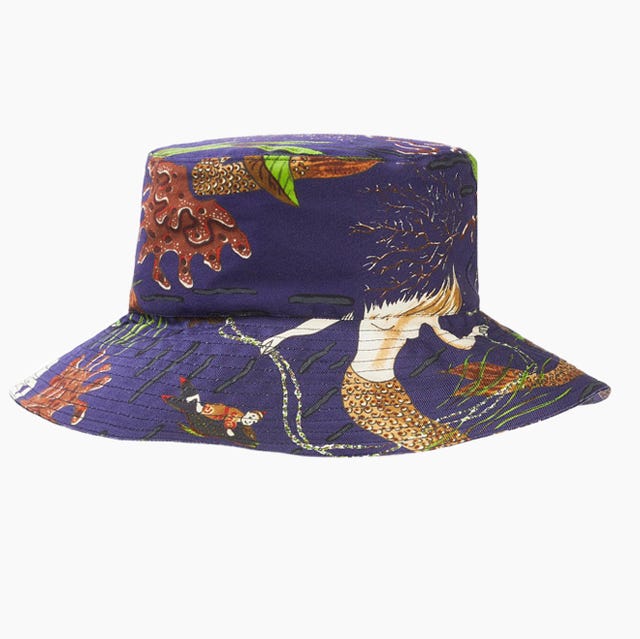 Courtesy
No one—save Beyoncé, Faye Dunaway, Judy Funnie and that beatnik poet in An Extremely Goofy Movie—has ever looked natural in a beret. Fascinators are just that: fascinating to look at, but unlikely to make you feel comfortable unless you're attending an antiquated royal wedding. And let's not get started on the fedora's reputation. Sometimes, hats just make you feel silly. No other accessory makes you question your sense of self or prompt world-shattering introspection in the mirror: Are you wearing the hat, or is the hat wearing you?
Still, this challenge doesn't discourage us from trying to find the perfect chapeau, but the combination of casual and interesting hat often eludes us. You can fall back on your basic dad hat or easy bucket, but we found 25 styles that strike the perfect balance ahead.
1 of 25
Fisherman Hat
Asos DESIGN
us.asos.com
$18.40
This sweet hat looks like it belongs to a toddler, which is exactly why we love it. 
2 of 25
The Baseball Cap
Everlane
everlane.com
$22.00
When in doubt, go with a crisp white baseball cap. 
3 of 25
The Panama
Layd is a genius label that creates hats with removable silk liners. In other words, you can actually clean your toppers without destroying the integrity of the brand's handmade straw hats. 
4 of 25
P-6 Logo Trucker Hat
Patagonia
patagonia.com
$35.00
Just when you thought 2020 couldn't get more surprising, it's time to brace yourself for the return of the trucker hat. 
5 of 25
Canvas Packable Hat
Hat Attack New York
hatattack.com
$65.00
I think I found the perfect beach hat. 
6 of 25
Le Chapeau Valensole
Jacquemus
shopmcmullen.com
$330.00
Jacquemus' extra-wide brim hats are all over Instagram, but this one is slightly more subtle.  
7 of 25
Fisherman Hat
A Loewe hat with mermaids? Sign me up. 
8 of 25
Straw Hat
This H&M find is a steal considering how many compliments you'll receive while wearing it. 
9 of 25
Canvas Tie Bucket Hat
Urban Outfitters
urbanoutfitters.com
$24.00
Never let your hat blow off in the wind again with this season's super trendy tie-on bucket hat. 
10 of 25
Essex Raffia Bucket Hat
Brixton
brixton.com
$35.00
This hat will make you feel like you're on vacation, even if you're only running errands. 
11 of 25
Striped Rebucket Hat
Daily Paper
dailypaperclothing.com
€69.00
Oxford stripes but make it streetwear. 
12 of 25
Raffia Cruiser
Lack of Color
lackofcolor.com
$129.00
Add a faux flower for '90s Blossom vibes. 
13 of 25
Orange Vashu
Ok, this hat isn't that low-key, but Romulada is a brand on the rise. You can choose your own statement adventure, because almost every hand-printed style comes in a a range of widths. Your grid will thank you. 
14 of 25
Vintage-Check Bucket Hat
Burberry
matchesfashion.com
$320.00
As someone who owns a vintage Burberry bucket from the '90s, I can assure you that these are built to last. 
15 of 25
Nico Packable Hat
Janessa Leone
janessaleone.com
$212.00
For my fellow head-sweaters out there. 
16 of 25
Straw Panama
Celine
celine.com
$730.00
Hedi Slimane is known for making the best basics with a high-fashion eye. This deceptively simple Panama hat is the perfect example of his craftsmanship. 
17 of 25
Surf Cap
Palace
palaceskateboards.com
$48.00
Here's a dad hat with streetwear clout.  
18 of 25
Raffia Women's Bucket Hat
A raffia hat is just what summer deserves.  
19 of 25
Jax Bucket Hat
Frankie's Bikinis
frankiesbikinis.com
$45.00
Don't forget to wear this hat with its matching terrycloth bikini. 
20 of 25
Gingham-Tie Straw Hat
Madewell
madewell.com
$32.99
For the stylish country bumpkin. 
21 of 25
Roe Hat
Monroe
monrowenyc.com
$325.00
Handmade in America from glazed Japanese straw, Monroe's hats are as luxurious as they get. 
22 of 25
Tie-Dye Diamond Panama Hat with Cord
Sensi Studios
sensistudio.com
$195.00
We're still not over tie-dye.
23 of 25
Holiday Bucket
Lack of Color
lackofcolor.com
$119.00
Go retro with this oversized bucket hat. 
24 of 25
Straw Bucket Hat
Universal Thread
target.com
$19.99
An open-weave straw hat will keep your head cool on hot summer days. 
25 of 25
Logo Cap with Leopard Scarf
You'll never forget to wear a face mask again. 
Advertisement – Continue Reading Below
This content is created and maintained by a third party, and imported onto this page to help users provide their email addresses. You may be able to find more information about this and similar content at piano.io
This commenting section is created and maintained by a third party, and imported onto this page. You may be able to find more information on their web site.