17 Best Documentaries to Watch in 2020
5 min read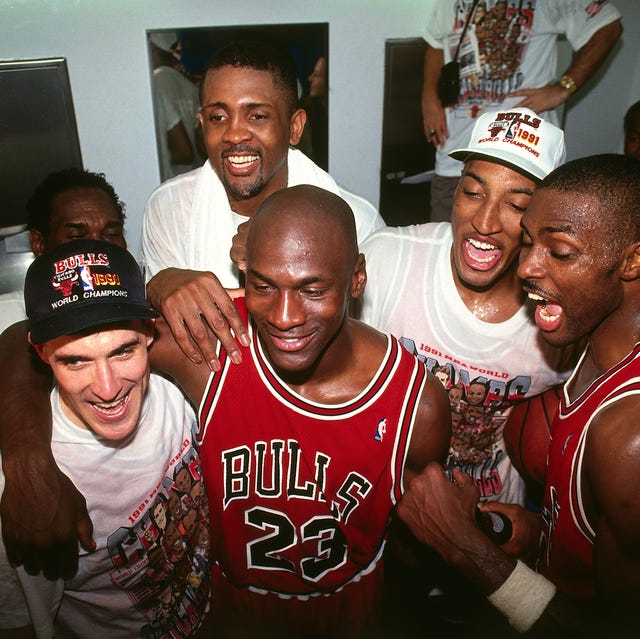 Andrew D. Bernstein
Here's the perfect activity for quarantine: Documentary marathons. Every year, great movies come to Sundance and the other respected doc festivals around the world. In a normal year, we probably wouldn't have time to sit down and watch most of them, but this year is the exception. We're all sheltering in place, avoiding socialization, and relying on endless lists of films and books to keep us occupied. Instead of bingeing all of Gilmore Girls (again) or watching the best episodes of The Office on repeat, consider taking a look at some of the documentaries that have come out so far this year.
Yes, quarantine has proven that if someone makes a docuseries about the secret world of big cats, we will watch it, obsess over it, and want to know everything about everyone featured. (Netflix is really on a roll of late.) But if you can stomach it, there are plenty of movies about the political environment we're all living in—and the "fake news." And if political flicks are less your style, 2020 has also offered insight into con artist schemes, a champion cheerleading squad with a lot of heart, and the science behind babies' brains. Click through for the best of the year so far.
Advertisement – Continue Reading Below
1
Hillary
It's been nearly four years since the last presidential election, and that might not be enough time to escape the memories of November 8, 2016. But in case you're ready, Hulu has a documentary about the life and career of presidential candidate, former first lady, and secretary of state Hillary Clinton. Hear the story from her perspective.
2
After Truth: Disinformation and the Cost of Fake News
Sick of hearing your relatives debate about "fake news" at family gatherings? Wish you could never hear that phrase again? Filmmaker Andrew Rossi examines the phenomenon and what it's doing to America.
3
The Last Dance
This 10-part documentary series is, as Esquire puts it, "catnip to basketball die-hards." It offers an extensive look at the Chicago Bulls' final championship season, 1997-98, when the Bulls—including Michael Jordan—allowed an NBA Entertainment crew to follow them around. Even if you don't care about basketball, this is worth your time.
4
Babies
Even if you're not a parent or planning on becoming one, this docuseries about the science behind infant development in the first year of life is worth exploring. Maybe it will help you answer more of your therapist's prying questions about your early development.
5
Ali and Cavett: The Tale of the Tapes
Muhammed Ali died in July 2016, but he left a mighty legacy behind. This is the story of the boxer, activist, and philanthropist as told through the lens of his appearances on the long-running talk show The Dick Cavett Show.
6
Bloody Nose, Empty Pockets
Brother documentarians Bill and Turner Ross follow the last night of service at a beloved Las Vegas dive bar called Rolling '20s—complete with a mighty twist.
7
The Pharmacist
This Netflix docuseries follows the story of small-town Louisiana pharmacist Dan Schneider as he tries to identify his son's killer.
9
McMillion$
The wild story of how a con artist stole $24 million from the McDonald's Monopoly game in the '90s might be even more shocking than Joe Exotic's.
10
Disclosure: Trans Lives on Screen
11
Cheer
Did you know that Corsicana, Texas is home to collegiate cheerleading champions? Most people didn't before this groundbreaking series, about the lives, victories, and sorrows of a group of student athletes at Navarro College who support each other while the rest of the cheer world watches.
12
Crip Camp
This Netflix documentary follows a summer camp that, in the late 1960s and early 1970s, brought disabled teens together to change the stigma around disability and make revolutionary change.
13
The Truffle Hunters
This film about truffle-hunting dogs had its premiere at the Sundance Film Festival this year and was executive produced by Call Me By Your Name's Luca Guadagnino. The movie is set deep in the forests of Northern Italy, where the highly prized Alba truffle can be found.
14
Inheritance
This PBS documentary was inspired by journalist Jonathan Silvers' wife, who tested positive for the BRCA1 mutation. It delves into the truth of the BRCA gene and how genetic research can save lives and reduce risks.
15
Miss Americana
Taylor Swift usually keeps her private life private, but this documentary, which premiered on Netflix in January, gives fans a look into her life behind closed doors. You get to see more of her cats, too.
16
Killer Inside: The Mind of Aaron Hernandez
Former NFL player Aaron Hernandez went from New England Patriots tight end to convicted murderer. This docuseries features interviews with Hernandez's friends, fellow players, and insiders who help connect the dots in this chilling story.
17
A Secret Love
Pat Henschel and Terry Donahue were together for more than 70 years, but they didn't come out to their families until 2009. This is the story of their decades-long romance, which included Terry's years as a player in the All-American Girls Professional Baseball League, and their life together in Chicago. The film, directed by Terry's great-nephew, Chris Bolan, follows Terry and Pat's final years together, as they navigate aging in world more accepting of their love.
This content is created and maintained by a third party, and imported onto this page to help users provide their email addresses. You may be able to find more information about this and similar content at piano.io
This commenting section is created and maintained by a third party, and imported onto this page. You may be able to find more information on their web site.
Advertisement – Continue Reading Below