Trendy Summer Sandals 2020 – 65 Cute Pairs of Designer Sandals
3 min read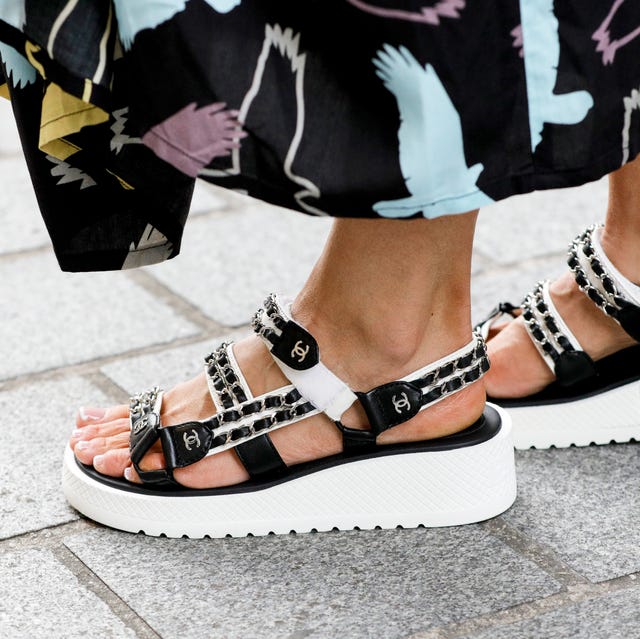 Isa FoltinGetty Images
These are dire times. But there's something comforting about scrolling through an endless array of shoes. With a whopping 65 styles ahead, you're bound to find a pair (or two or ten) that'll make you want to slip off your slippers and go for a proper socially distant walk. From rainbow flats to cherry stilettos to the return of the flip flop, there's something for everyone in our edit of summer sandals.
2 of 65
Abbi Flatform
Brother Vellies
brothervellies.com
$655.00
Get the height without the pain in Brother Vellies' easy platforms. 
3 of 65
Salone Monet
Sable Landry
Salone Monet
salonemonet.com
$295.00
Finding a perfect nude shoe that matches your complexion is made easy at Salone Monet. You'll own these for life. 
4 of 65
BYM Platform Slides
Sincerely, Tommy
sincerelytommy.com
$19.00
Tap into your middle school style with flatform flip flops. 
5 of 65
Lolo Sandal
Shekudo
shopthefolklore.com
$275.00
You deserve made-to-order shoes. 
6 of 65
Dalida Satin Sandal
Amina Muaddi
fwrd.com
$790.00
Come on Barbie, let's go party.  
7 of 65
Ophelia Sandals
Merah Vodianova
merahvodianova.com
£350.00
The leg-wrap stiletto is one of the hottest trends of the summer. Style them by tying the strings over your jeans. 
8 of 65
Sophia
Ade Samuel
adesamuel.com
$330.00
We consider firetruck red a neutral color. 
9 of 65
Masque Snake Sandals
Kendall Miles Designs
kendallmilesdesigns.com
$93.00
These shoes are a maximalist's dream come true. 
10 of 65
Goddess Sandal
Jessica Rich
jessicarich.com
$99.00
Wearing these five-inch heels prove you did not come here to play. 
11 of 65
Lagos Sandal
Zouxou
zouxou.com
$149.00
The humble slide deserves a little shine.
12 of 65
Lindsay Lace-Up Sandals
Balmain
farfetch.com
$677.00
Enlist in the Balmain army with these non-military-grade heels. 
13 of 65
Black Alix Flatform Sandals
3.1 Phillip Lim
ssense.com
$423.00
Think of these as heavy duty Birks.
14 of 65
Chain-Embellished Sandals
Sacai
net-a-porter.com
$705.00
A well-treaded pair that's both dainty and heavy duty. 
15 of 65
Reverse Leather Thong Sandals
Marni
modaoperandi.com
$890.00
These are my favorite shoes and I don't even own them. 
16 of 65
Arizona Slide Sandal
Birkenstock
nordstrom.com
$33.71
The plastic Birks are arguably better than the original suede. 
17 of 65
Beaded Rope Sandals
& Other Stories
stories.com
$79.00
For beach days and everything in between. 
18 of 65
Jenny Slide Sandals ™
Universal Thread
target.com
$19.99
If you destroyed your last pair of flat slides already, it's time to re-up with this chic Target find. 
19 of 65
Fragolina Sandals
Aquazzura
shopbop.com
$995.00
Here's a sandal that is good enough to eat.  
20 of 65
Xemei Sandal in Natural
Castaner
revolve.com
$260.00
Let the compliments roll in. 
21 of 65
Yareli Slingback Square-Toe Sandals
Schutz
bloomingdales.com
$129.50
The chain detail on this pair takes them to the next level. 
22 of 65
Foundations Matte Flip Flops
Chic flip flops do exist, damnit, and they're only $50 from TKEES. 
23 of 65
Mules
Chanel
chanel.com
$1,100.00
Let's all agree that these Chanel mules must be worn with capri pants and cat-eye sunglasses. 
24 of 65
The Samira Flat Sandal
Madewell
madewell.com
$98.00
Every summer shoe should remind you of a rainbow. 
25 of 65
Spiral Sandals
Bottega Veneta
bottegaveneta.com
$1,900.00
Another season, another it-Bottega Veneta accessory. 
26 of 65
Angelina GG Supreme Platform Slide Sandal
Gucci
nordstrom.com
$595.00
Pool slides, but make 'em Gucci. 
27 of 65
The Rope Metallic Sandal
Valentino
valentino.com
$995.00
Feel like a goddess with Valentino's runway sandals .
28 of 65
Tazlin Demi Wedges
Asos Design
us.asos.com
$35.00
For my fellow bunion buds, these wide-fit sandals will bring a tear to your eye. 
29 of 65
Naomi Sandals
Manu Atelier
shopbop.com
$241.50
Straps on straps on straps: Though the straps are thin on these square-toed heels, they are mighty.
30 of 65
The Day Crossover Sandal
Everlane
everlane.com
$98.00
A basic sandal goes reptilian. 
Advertisement – Continue Reading Below
This content is created and maintained by a third party, and imported onto this page to help users provide their email addresses. You may be able to find more information about this and similar content at piano.io
This commenting section is created and maintained by a third party, and imported onto this page. You may be able to find more information on their web site.