Sofia Coppola Shares Her Summer Essentials
3 min read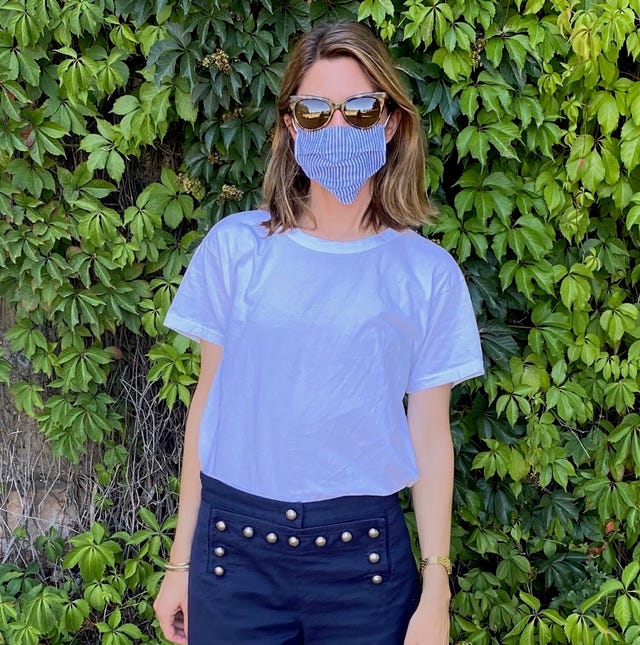 Courtesy of Sofia Coppola
Unique is one way to describe this summer. Any plans we had to get away have been inevitably canceled. Filmmaker Sofia Coppola has been spending quarantine at her childhood home in Napa Valley with her family "and trying to not regress into my 12 year-old self," she told ELLE.com via email. Combating that regression involves a little rosé , a little writing, and appreciating "being around nature …and cooking!" She's also been shopping her own enviable archives "for 90's Marc Jacobs and Alaia."
Meanwhile, her work carries on. Chanel recently released several videos directed by Coppola including a behind-the-scenes look at Virginie Viard's Metiers d'Art collection from December. And Coppola's latest feature film, On the Rocks starring Rashida Jones and Bill Murray, is set to be released this fall on Apple.
Ahead, the frequent designer muse shares her summer 2020 essentials.
1
NOK Lip Conditioner in Bergamot Ginger
Next of Kim
nextofkimbeauty.com
$7.00
I love that this is all natural, perfect to keep handy at all times.
2
Single 10mm Diamond Huggie
Mateo
mateonewyork.com
$250.00
Nice to have for summer, easy to keep on all the time and adds a little sparkle to your day.
3
Zoya Open Neck Caftan
Lemlem
lemlem.com
$295.00
To throw over a swimsuit or for lounging while home these days.
4
The Paris Review No. 233
The Paris Review
theparisreview.org
$20.00
Always fun to discover writers in their selection.
5
Brut Rosé Mini
The perfect summer drink. With the mini cans, you can easily drop them in a cooler for a day at the beach or pool. Also recommend keeping your fridge stocked up with these (tip: drink them ice cold). 
6
Marigold Calendula Shea Butter Hand Cream
Soap and Paper Factory
soapandpaperfactory.com
$22.00
To keep your hands from drying out with all this hand washing – it's all natural and feels and smells great.
7
Lomo'Instant Square Glass Combo (Pigalle Edition)
Lomography
lomography.com
$129.00
Cute camera, the glass lens helps you take crisp photos and for me it brings back memories of summer vacation growing up.
8
White Girls
White Girls by Hilton Als
amazon.com
$4.99
A friend recommended this, I've heard he's a phenomenal writer, this book is a series of essays in the New York of the late 80's – which is a favorite period of mine.
9
Rogue Coco Flash Lipstick in Boheme #91
I love this sheer coral to brighten up for summer.
10
Exfoliating Mask
Joanna Vargas
joannavargas.com
$75.00
Feels good to scrub off all that sunscreen and have fresh skin. I like to use this twice a week and it always feels like I've had a mini facial.
11
Hardcover Notebook (Lemon)
LEUCHTTURM1917
amazon.com
$19.95
I love [these notebooks] for keeping notes and lists, and nice to have a bright cheerful color like this one.
12
Silk Cut Pro Hair Cut Scissors
Olivia Garden
oliviagarden.com
$179.99
For trimming your hair at home! Until you can get to a pro right now, also fun to do. (I've been cutting my family's hair.)
13
"Zuma" Canvas Pouch
Pacific Tote Company
pacifictotecompany.com
$45.00
So easy and casual, the perfect item to keep your essentials organized and nearby without having to search through a tote, or to just grab on its own to have what you need with you.
14
The Collected Stories of Lydia Davis
The Collected Stories of Lydia Davis
amazon.com
$11.99
I love her poetic stories, some only a page long.
15
Joaquin Tee – White
Calder Blake
calderblake.com
$98.00
These are my favorite T-shirts, they're so soft and cool, with a boyish, boxy shape that goes with everything. I stock up on white and navy for the summer, and anytime.
16
Tortoise Cat Eye Sunglasses
Norma Kamali
normakamali.com
$98.00
To add a little glamour to your day, these do it instantly!
17
Safari Navy Linen Top
I love this loose linen top, that's chic and easy for summer, when you want to be a little more put together than a T-shirt.
18
Sex and Vanity: A Novel
Sex and Vanity by Kevin Kwan
amazon.com
$13.99
This content is created and maintained by a third party, and imported onto this page to help users provide their email addresses. You may be able to find more information about this and similar content at piano.io
This commenting section is created and maintained by a third party, and imported onto this page. You may be able to find more information on their web site.