Princess Diana Best Looks | Photos of Princess Diana, Princess Diana Outfits, Best Looks
3 min read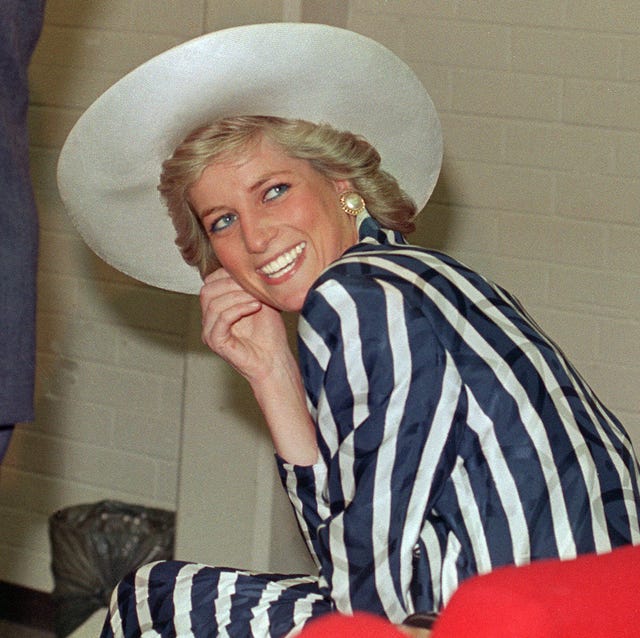 PATRICK RIVIEREGetty Images
Known as the people's princess, Lady Diana Spencer was one of the most recognized and influential style icons in the world. Paving the way for future fashionable royals like daughters-in-law Kate Middleton and Meghan Markle, Diana made bold statements with her sartorial choices, from bright suits and dramatic gowns to her famous wedding dress. Several of her most memorable ensembles are depicted in The Crown season 4, as played by newcomer Emma Corrin. But there are tons of worthy pieces that don't make it into the final edit.
Relive some of Princess Diana's most underrated style moments—many of which are still in vogue today.
1 of 63
Topped-Off Teen
Before she graduated to elaborate fascinators, Di went with a classic black chapeau in her formative years.
2 of 63
The Original Normcore
We want to wear this now.
3 of 63
An Oversized Sweater Over a Dress
Sporting what we'd now call a "boyfriend sweater," Princess Diana makes effortless look chic.
4 of 63
Tied at the Neck
Somehow this fair isle sweater, button-up oxford, and ribbon doesn't come across as granny.
5 of 63
Turban-Hat Hybrid
Diana covers her head in an incredibly chic way.
6 of 63
Stacked Watches
Diana did the arm party thing before it was even a thing.
7 of 63
Gingham Pants
Summery fancy pants for a polo match. Is there anything more appropriate?
8 of 63
Initial Necklace
A classic piece with a hint of fun. We're into the gold hoops, too.
9 of 63
Matching the Outfit to the Atmosphere
This sunny yellow dress against the bright yellow backdrop makes a stunning combination.
10 of 63
A Statement Collar
Leave it to Princess Diana to take a collar to whole new fashion heights.
11 of 63
A Menswear-Inspired Fedora
This boyish topper balances out the high-necked, feminine shirt.
12 of 63
The Beret
A lesson on how to wear a beret without looking like a french painter.
13 of 63
Layered Pearls
She manages to make pearls on pearls on pearls look chic, not cheesy.
14 of 63
High-waisted Pants and a Loose Fitting Shirt
Some of Diana's most casual, laid-back looks are her most stunning.
15 of 63
The White Tux
Suited up, black tie style. Diana stands out in a sea of gray suits.
17 of 63
Overalls
Overalls are back—but Diana was wearing them almost 30 years ago.
18 of 63
Peplum Hem
The peplum trend saw a resurgence in the early 2010s, but Diana did it first.
19 of 63
Animal Print
This flowy cheetah print dress feels current right now.
20 of 63
Double Denim
A Canadian tuxedo is always perfect for a day out with the children.
21 of 63
Velveteen Dream
Diana looks like a vision in this fitted velvet body-con dress, complete with sheer black tights and minimalist heels to match.
22 of 63
Pretty in Pink
The reason why "millennial pink" became a trend.
23 of 63
Colorblock
A high contrasting look with this pink and red button down dress, down to the top hat and clutch, makes for a bold statement.
24 of 63
Neon Brights
Before slime green became a trend, Diana rocked neon with this bright orange skirt-suit—with a generous amount of black to tone it down.
25 of 63
Monochromatic
To perfectly accent her cobalt blue dress, Diana made sure to keep her bag and shoes the exact same color for a seamless look.
26 of 63
Print Mixing
Nothing says "carefree" more than mixing and matching a plaid blazer jacket with a polka dot skirt.
27 of 63
Military Chic
Diana wears this impeccably tailored military-style jacket so well, we wish we had our own.
28 of 63
Aviator Sunnies
Aviator sunglasses and pearls make for an unlikely yet gorgeous pairing.
29 of 63
Playful Tights
From the front, Diana's pantyhose appeared to be all business. From the back, a thin black line and bow at the heel adds a touch of whimsy.
30 of 63
Houndstooth
How do you wear houndstooth without looking stodgy? Mix colors. Princess Diana's black, white, and red Moschino suit was bold yet elegant.
Advertisement – Continue Reading Below
This content is created and maintained by a third party, and imported onto this page to help users provide their email addresses. You may be able to find more information about this and similar content at piano.io