Princess Anne in Real Life
3 min read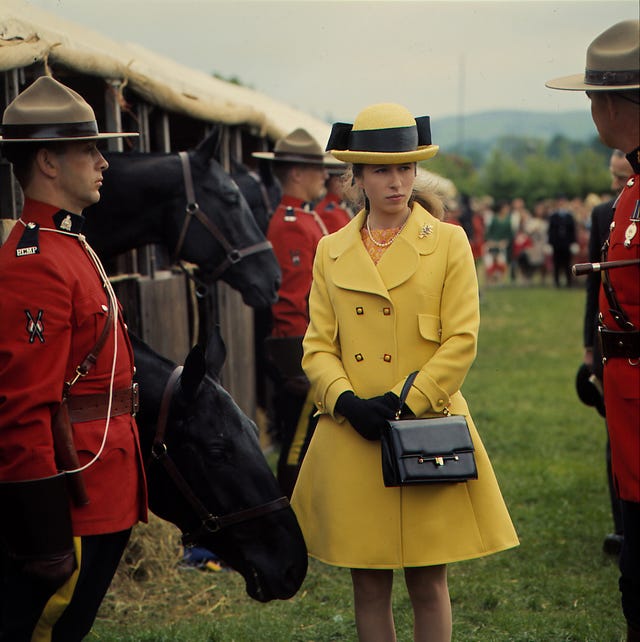 Jeremy FletcherGetty Images
After Princess Anne (played by Erin Doherty) emerged as the breakout star of The Crown Season 3, many have wondered what the royal was like in real life. Yes, she actually dated Andrew Parker Bowles before her brother Prince Charles romanced Camilla. She's known to have a passion for riding horses and sporting stylish headwear. She even endured a kidnapping attempt in 1974, an event that sadly didn't make its way into the third season. Here, take a look back at Anne's real-life moments that took place at the same time as the third season of The Crown, as a refresher before the fourth season comes out on November 15.
1 of 65
June 1963
Riding in a carriage for the Trooping of the Colour ceremony in June with her grandmother, The Queen Mother.
2 of 65
September 1963
Arriving to her first day at Benenden College with her mother, Queen Elizabeth. The young Princess started her education at the all-girls boarding school in Kent, England in 1963.
3 of 65
July 1964
Princess Anne on a boat with father Prince Philip.
4 of 65
July 1964
Riding in her first show jumping competition for her boarding school, Benenden College, in July 1964.
6 of 65
April 1965
Alongside Prince Philip, Queen Elizabeth, Prince Charles, and Prince Edward at Windsor on the Queen's 39th birthday.
7 of 65
April 21, 1965
Leaving the Comedy Theatre in London, after seeing "Son of Oblomov" for the queen's birthday.
8 of 65
1965
Riding motorized go-karts with her brothers.
9 of 65
September 1965
Princess Anne joins the other senior members of the royal family at an event in Windsor, Berkshire in 1965.
10 of 65
December 1965
Vacationing with Prince Charles in the ski town of Vaduz, Liechtenstein, and their father, Prince Philip.
11 of 65
December 1965
Riding down a snowy hill via sled with Prince Charles.
12 of 65
December 28, 1965
Attending a special service marking the 900th anniversary of the consecration of London's Westminster Abbey with Prince Charles.
13 of 65
April 1966
Helping one of her mother's corgis board an aircraft to Sandringham in 1966. The Princess had recently recovered from a broken nose from a riding accident.
14 of 65
August 1966
On a raft trap with Prince Philip during a royal tour of Jamaica.
15 of 65
August 16, 1966
With Prince Charles on a layover in New York City's JFK Airport. The family headed back to London after visiting Jamaica for the Commonwealth Games.
17 of 65
1968
At the Horse Trials with members of the Royal Canadian Mounted Police.
18 of 65
January 16, 1968
At Liverpool Street Station in London.
19 of 65
June 12, 1968
In Georgian clothes at an event for the Benenden school.
20 of 65
August 3, 1968
Alongside Queen Elizabeth during the Eridge Horse Trials in East Sussex.
21 of 65
August 10, 1968
Visiting Pembrokeshire, a county in southwest Wales.
22 of 65
November 6, 1968
At a reception given by the British Show Jumping Association at the Whitbread Cellars in London.
23 of 65
November 13, 1968
Leaving the Savoy Theatre in London's West End.
24 of 65
December 16, 1968
Receiving a bouquet of flowers from Heather Ripley, one of the child stars of Chitty Chitty Bang Bang at the film's premiere.
25 of 65
1969
Receiving instructions on how to drive a tank during a visit to the troops in Germany.
26 of 65
March 3, 1969
Attending the Henry Wood centenary concert at the Royal Albert Hall in London.
27 of 65
May 7, 1969
Alongside Queen Elizabeth at the Hotel Imperial in Vienna, during a state visit to Austria.
28 of 65
June 19, 1969
Arriving at the Royal Ascot Race with her escort, the Duke of Beaufort.
29 of 65
July 1, 1969
Arriving alongside Princess Margaret and the Queen Mother at the investiture of Prince Charles as Prince of Wales at Caernarvon Castle.
30 of 65
October 22, 1969
At the opening ceremony of the new Police Cadet Training School in London.
Advertisement – Continue Reading Below
This content is created and maintained by a third party, and imported onto this page to help users provide their email addresses. You may be able to find more information about this and similar content at piano.io