7 Best Tanning Oils – Best Tanning Products 2020
3 min read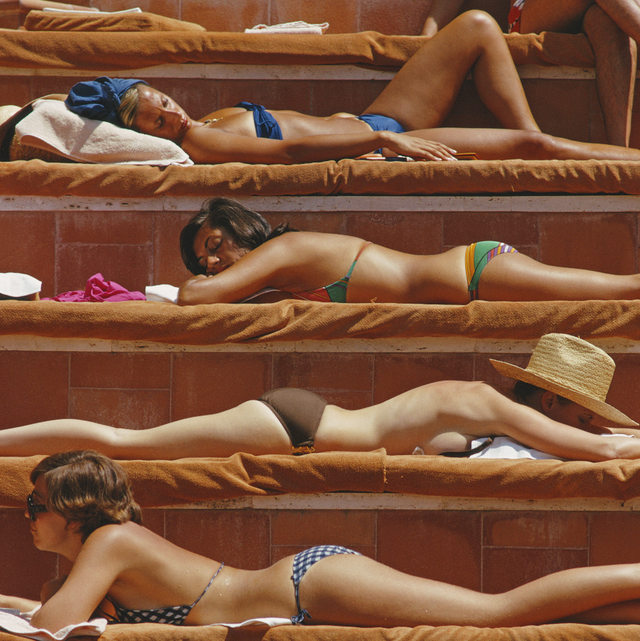 Getty Images
I spent my teenage summers in Syria obsessed with two things: eating as much of my Aunt's hummus as possible and building the perfect tan. My cousins and I approached getting tan (i.e. evenly bronze but not burnt) as a scientific study with one important variable: tanning oil. In my research, I learned an important lesson: you can still get color while wearing sun protection—and SPF was a must for an even, glowing skin. These are the very best hydrating, skin nurturing tanning oils that will help you get the perfect bronze after a day in the sun—and the two products your skin needs to stay glowing.
1 of 7
Tanning Oil Spray SPF 15
Hawaiian Tropic
walgreens.com
$11.79
Generations of sunbathers have used this tanning oil for a reason—the formula is spiked with SPF 15, along with vitamins A, E, and C, to condition skin the moment you smooth it on. And the scent—coconut—is an absolute classic.
2 of 7
Spray Gel Sunscreen with Instant Bronzer SPF 15
Australian Gold
amazon.com
$18.99
This deep-bronze oil is a trifecta of perfection. Carmel gives you an instant tan (literally the moment you put it on!), while SPF and antioxidants kakadu plum and tea tree oil protect skin from the sun and free radicals. It also helps your tan last longer by keeping skin hydrated.
3 of 7
REEF SAFE
Tanning Oil SPF 15
Sprays are the easiest way to make sure your entire body is evenly coated. And this reef-safe formula has aloe vera, green tea butter, and four types of oils (argan, marula, coconut, and avocado) to super-moisturize and nourish skin.
4 of 7
Bum Bum Sol Oil SPF 30
Sol de Janeiro
sephora.com
$38.00
Picture this: You're lounging by the pool, limbs gleaming. An amazing scent wafts by—and oh wait, that's also you. This luxurious oil is inspired by the epic tans of Brazilian women—and you'll be able to get one, no plane ticket needed.
5 of 7
FAKE A TAN
Self Tan Purity Vitamins Bronzing Water Body Mist
St. Tropez
ulta.com
$42.00
If you want to skip the sun, this skincare-like self-tanner is the way to go. The lightweight, clear formula won't stain your clothing, and the vitamin-enriched formula gives you an even, customizable tan that lasts for days.
6 of 7
A Pre-Tanning Must
Mesh Body Exfoliator
Luv Scrub
theluvscrub.com
$18.00
Perfectly prepped skin is a key to getting an even tan. And this cloth makes exfoliating your entire body (even your back) so easy. You'll step out of the shower with super-smooth skin.
7 of 7
AFTER CARE
Whipped Shea Butter in Copper Gypsy
Next of Kim
nextofkimbeauty.com
$25.00
More than 200 drops of essential oils (a combo of  rose, sandalwood, and lemongrass) give this airy, hydrating moisturizer the most romantic scent. Smooth a little on and you'll stay gleamy after a day in the sun.
Advertisement – Continue Reading Below
This content is created and maintained by a third party, and imported onto this page to help users provide their email addresses. You may be able to find more information about this and similar content at piano.io
This commenting section is created and maintained by a third party, and imported onto this page. You may be able to find more information on their web site.