13 Best Planners for 2020-2021 — Best School Year Agendas
3 min read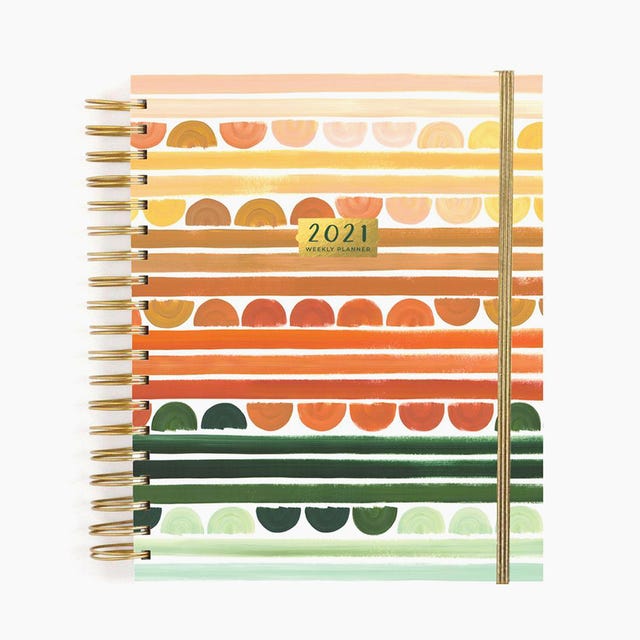 Courtesy
There seems to be a general consensus among many of us that buying a 2020 planner was kind of…silly. These naive notebooks, which were once filled with upcoming trips and date nights, are now complete with crossed-out parties and cancelled brunches. But does that mean we lose hope and succumb to the world of Google calendars? No, it does not. Whether you're starting school in the fall (online or IRL), making six-feet-apart picnic plans, or just holding out for a better 2021, these 13 planners will help you be your most organized, most-likely-Capricorn self—even in quarantine.
1 of 13
Sienna Hills Planner
1canoe2
1canoe2.com
$36.00
1canoe2—a woman-run illustration company based in Fulton, Missouri—consistently produces some of the most beautiful and functional planners. Snag whichever design you like (good luck choosing though) in either an academic- or calendar-year format. 
2 of 13
17-Month Academic Planner
ban.do's planners are always fun (check out the in-book designs), surprising (there are stickers and a coloring page), and offer the kind of pick-me-up you might need in the middle of, say, a global pandemic.
3 of 13
The Dailies: 30 Day Planner
Alter Planning
alterplanningco.com
$10.00
While this Beyoncé-approved company is currently sold out of their 2020 planners, you can still get your hands on The Dailies, a 30-day planner that has space for tracking your budget, habits, goals, and daily to-dos.
Alter Planning also told ELLE.com that it will be opening orders for 2021 planners on September 8th.
4 of 13
Painterly Floral Planner
Rifle Paper Co.
papersource.com
$38.95
This Rifle Paper Co. planner comes with stickers, a pocket, a ruler, and the kind of cover that will actually make you want to pick it up every day.
5 of 13
The SELF Journal
BestSelf Co.
amazon.com
$31.99
The SELF Journal is not for the faint of heart. Specifically designed for goal setting, this 13-week planner use various templates and tools to help you plan and track your progress, while also giving room for daily to-do lists and even weekly reflections. 
6 of 13
Daily Planner 2020-2021 by Panda Planner
Panda Planner
amazon.com
$20.97
Similar to the SELF Journal, Panda Planners are 90-day notebooks that help with productivity and time management. Each day has space to write a morning review, your top priorities, a schedule, and an end-of-day review, while the weekly rundowns will ensure you stay on top of long-term projects.
7 of 13
Ivory Paper Planner
Ivory Paper Co.
ivorypaperco.com
$49.00
If you're looking for customization, Ivory Paper Co. lets you choose your start day, planner length (six, seven, or eight months), and whether you want it personalized or not.
8 of 13
Mid-Year Soho Agenda with Pocket
Smythson
smythson.com
$285.00
Welcome to the diamond necklace of planners. This guy is sleek enough to keep tucked away, but you'll probably want to show it off. 
9 of 13
Academic Planner
Sugar Paper
target.com
$16.99
Apropos of nothing—not even the question of whether buying a planner in a pandemic is a financially responsible move—Target has inexpensive ones that still get the job done.
10 of 13
Academic Year Daily Planner
Day Designer
daydesigner.com
$59.00
Day Designer lets you choose which organizational structure is best for you; pick from the company's daily planners, weekly planners, or non-dated to-do planners. 
11 of 13
Academic Passion Planner
Passion Planner
amazon.com
$35.00
12 of 13
18-Month Weekly Notebook Planner
Moleskine
moleskine.com
$17.95
What is a planner list without a Moleskine shoutout? This notebook works best for those who have a lot to write—each two-page spread has the days of the week on one side and then a lined page for extra notes on the other.
13 of 13
Handwritten Dates Small Planner
kate spade new york
papersource.com
$26.95
I don't think any of us are forgetting what year it is, but just in case you need it spelled out. 
Advertisement – Continue Reading Below
This content is created and maintained by a third party, and imported onto this page to help users provide their email addresses. You may be able to find more information about this and similar content at piano.io
This commenting section is created and maintained by a third party, and imported onto this page. You may be able to find more information on their web site.